We gladly accept donations of technology hardware including computers–both laptops and desktops–as well as tablets, printers, and other hardware to help strengthen family engagement in the homes of low-income students and enable teachers to extend learning beyond the classroom walls
Thank you for your support!
What to Do Before Donation
Don't wait.
If you're no longer using a device, donate it as soon as you can. The value of consumer electronics declines at a fast pace. A computer that's 5 years old, for instance, can be refurbished and used by students; a computer that's six years old will most likely be recycled for parts.
Clear the hard drive.
This is essential for maintaining your privacy. Not sure how to clear your computer's hard drive? We can clean the hard drive for you. There is no cost for this.
Include related materials.
If you're donating a computer, include any manuals, monitors, keyboards, connection cables, software, etc. you have that you no longer need.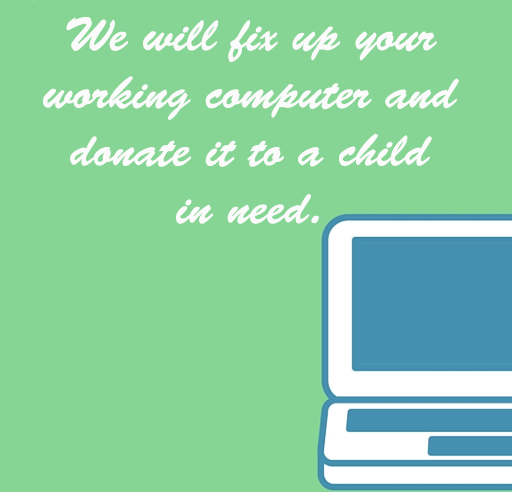 Frequently Asked Questions
What kind of laptops will you accept?
We will happily accept any laptops less then 5 years old due to costly battery replacements, and preferably with the power cord.
What kind of desktops will you accept?
We will happily accept any desktop computers and monitors you can contribute. Computers 5 years old or less are preferred due to cost of updating older computers.
Would it also be helpful to receive donations of extra laptop power cords?
Yes, We would love extra laptop power cords because we sometimes receive laptop donations without power cords.
Do you accept donations of any other types of technology hardware?
We welcome the opportunity to discuss other possible donations, such as iPads, other tablets, USB flash drives, and surge protectors for families.
Should I reset my Ipad or android tablet?
Yes, we have no idea what your password is for either device, so we really cant go in and reset these devices back to the factory defaults without a password.
Will you accept the older CRT (picture tube) monitors?
Absolutely not, these are way too big and bulky, also very much outdated.
NOTICE: Some tech like projectors will be donated either to local schools or local libraries.